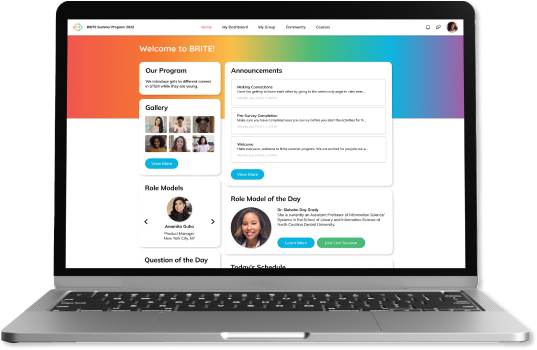 Overview
A customized online platform has been developed for BRITE, which can be accessed through a 1:1 device, and will serve as a launching pad for girls to participate in individual, small group, and community-wide activities. Each week culminates with BriteFest, where girls share the projects they have worked on throughout the week with a role model. The program runs Monday to Thursday.
The research component of the project aims to determine how three core approaches to STEM identity development (community-building, hands-on activities, role models), as implemented through the Brite Online Learning Community, influence girls' STEM identity.
Brite began as a pilot in 2020, in a partnership with the World Science Festival and The Hello Studios. The program provided a high-quality, online suite of activities centered on collaborative learning with women role models.
NGCP revised Brite in 2021, learning from a robust evaluation by SJLR Solutions. Brite 2021 consisted of two courses: Art x Science, featuring role models and activities at the intersection of art and science, and Dream Big, Take Risks, featuring diverse women role models and activities that introduced girls to pioneering, multi-disciplinary careers in STEM.  NGCP conducted a case study on Brite 2021, centered upon how girl participants perceived the role model experience and what made it meaningful to them. The study revealed two central themes: Girls value learning about interdisciplinary and diverse STEM career pathways taken by role models, and girls find meaning in and relate to role models' personal and professional journeys.